Therapeutic sound bed Exclusive
Top quality therapeutic sound bed....more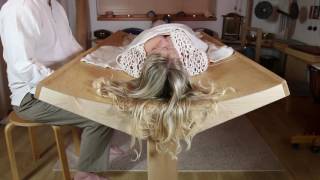 Video ukázka
If you are looking for the very best sounding therapeutic resonation bed ever, you just found it (and we have tried quite few of them). The depth of the vibrations, richness of the tones, resonations and harmonies is unparaleled. The bed is uniquely round shaped (bringing very comfortable "embracing" feeling) with 2 monochords (A and deep D). The effects of this bed are very deep, healing, relaxing, harmonising and uplifting. 

Ideal for various types of music therapy, wellness, healing and also a home use ...

Equipped with very easy and sophisticated system of fine tuning.

You are welcome to try this bed in our studio any time.

On request, the bed can be aditionally equipped with the internal speakers that you can connect with any external player for perceiving the lower frequencies of music through the whole body (for 300 EUR) 

As an accessory, you can also order 6 wooden stands (easily adjustable) for the tibetan bowls for 130 EUR.

Length 203 cm, width 73 cm, height in the middle 73 cm, height at the edges 83 cm.