Stellar Flute maple G
This stunning Cambia maple flute is in a great key for beginners. It is small enough that most people can easily hold it and reach all of the fingering holes. This is our most popular key.

The key of G is a medium sized flute. 23 ½ inches long with
a 7/8 inch bore. The fingering holes are (from center to center) approximately
1 1/8 inch apart. The distance from the mouth end of the flute to the first
Finger hole is approximately 10 1/8 inches.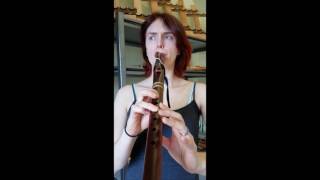 Video ukázka