Stellar Flute Basic C
The Basic G flutes are hand made out of western red cedar and tuned to the pentatonic minor scale. This is a great key for beginners. It is small enough that most people can easily hold it and reach all of the fingering holes. This is our most popular key.

The Basic G is a medium flute. 23 ½ inches long with a 7/8 inch bore. The fingering holes are (from center to center) approximately 1 1/8 inch apart. The distance from the mouth end of the flute to the first finger hole is approximately 10 1/8 inches.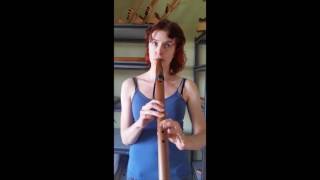 Video ukázka