Metallophone larger pentatonic
Metallophone 1 1/2" 8 bar in pentatonic tuning. Its clear, crystal-like sound attracts the ear of the child and adult alike. 
Each tone has its own resonator that yet enriches the sound with a wide range of harmonic vibrations and also long reverberation.
Includes 2 mallets and cover. Size: 44 x 37 x 8 cm.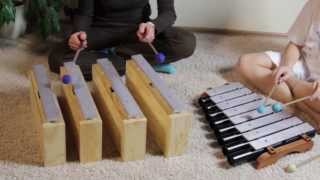 Playing together