The Kalimba B9
The B9, as we call it, is a small, handy kalimba with a solid resonance corpus of American cherrywood. It is the 'sister...more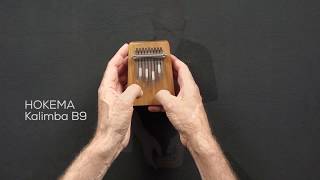 Video ukázka kalimba B9
The B9, as we call it, is a small, handy kalimba with a solid resonance corpus of American cherrywood. It is the 'sister' of the B7 model. The measurements of both instruments are the same but the tuning, number and breadth of the tines differ.

The vibrations of  the nine tines can be easily felt in the hands.
The sound of the instrument can be amplified by laying it on or sticking it onto a tabletop or the skin of a drum.
The tuning of  the Kalimba B9 is identical to that of the Sansula. It is in a-minor with additional tines tuned to B and F.

As all the notes harmonise with each other, beginners also enjoy immediate success with their instrument.