Metallophone larger pentatonic
1 1/2" 8 bar, pentatonic tuning. The deluxe model of the metallophones. The range of metal bar instruments is wide, from the simple "Glockenspiel" for pre-school children to the large vibraphones of symphonic orchestras. The clear, crystal-like sound attracts the ear of the child and adult alike. 


Each tone has its own resonator, which gives it a rich sound with a wide range of harmonic vibrations and also long reverberation.




Incl. 2 mallets and cover


...
more
1
met vetsi rez pent G
01:43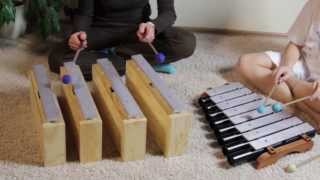 Video ukázka Souznění metalofonu a basových rezonátorů
Size: 44 x 37 x 8 cm